Search NCIBI Data
(e.g. diabetes, csf1r)
Login

HighLights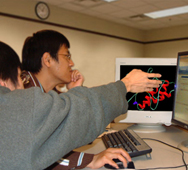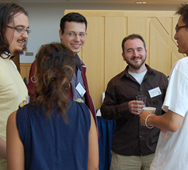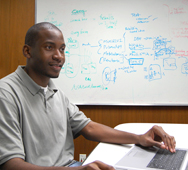 Certification in Integrative Biomedical Informatics
The Certificate in Integrative Biomedical Informatics will be housed in the University of Michigan (UM) Center for Computational Medicine and Bioinformatics (CCMB), and new courses are being created in collaboration with UM departments that have a stake in multi- and cross-disciplinary studies.
Examples of these departments are Electrical Engineering and Computer Sciences, Biomedical Engineering, Biostatistics, Chemical Engineering, and several departments in fields of biological sciences in the Medical School and College of Literature, Science, and Arts.
The Certificate in Integrative Biomedical Informatics will allow students in these other departments to add cross-disciplinary training to their education and will further the goal of developing scientists who are able to effectively participate in biomedical research that requires some understanding of multiple fields and an ability to communicate with researchers outside of their domains.
The Certificate in Integrative Biomedical Informatics program will require 15 to 19 credits in compliance with UM Rackham Graduate School rules. Students will be required to take two courses in a field outside of their own primary field for depth, plus a third course in another outside field for breadth. In the case of postdoctoral scholars, we would like to allow up to six credits towards the certificate for their research in the center if it is truly interdisciplinary in nature. If this is not possible, we will require that NCIBI postdocs participate in the three courses that would have been required for a certificate. The goal is to provide the postdocs with opportunities to extend their education without being unduly burdensome. It is also expected that NCIBI postdocs will contribute to the development and presentation of course material, and this could be counted as a credit (Practice in Cross-Disciplinary Training) towards the certificate. Masters and Ph.D. students would take additional courses to fulfill the certificate's requirement for at least 15 credits, but under U-M Rackham Graduate School regulations, some of the coursework from the degree program could be applied.
Certificate in Integrative Biomedical Informatics Areas of Concentration
Computer Science
Information Science
Biomathematics/Statistics
Biological, Biomedical and Clinical Sciences
Computational Biology (Bioinformatics, Systems Modeling)

Diversity
The University of Michigan and the Bioinformatics Program are firmly committed to the recruitment of students from historically underrepresented groups, and the Rackham Graduate School Office of Fellowships and Recruitment Programs works closely with the Bioinformatics Program on these efforts. The Rackham Graduate School organizes recruitment visits to undergraduate schools with a large concentration of undergraduates from historically underrepresented minorities. Many admitted minority graduate students are supported by the Rackham Minority Fellowships (RMF).
Because of the outstanding efforts of the University of Michigan and the successful training of students from traditionally underrepresented groups in the sciences, the Rackham Graduate School was awarded a special grant from NSF that provides a number of graduate fellowships for minorities. The Medical School participates in several minority research conferences such as the National Minority Research Symposium, the Society for Advancement of Chicanos and Native Americans in Science Conference, the Association of Minority Health Professionals Schools Conference, and the National Institutes of Science Beta Kappa Chi Conference. These are only a very few examples of the outreach and minority recruiting efforts taking place across the University of Michigan. The NCIBI is joining in these efforts to engage historically underrepresented minorities in our education and training programs, either as students in the cross-training Certificate in Integrative Biomedical Informatics Program, or as student or postdoctoral fellow participants in NCIBI research projects.