Search NCIBI Data
(e.g. diabetes, csf1r)
Login

Announcing the 6th Annual Research Conference
NCIBI & RCMI Workshop - June 28-29, 2011
"Data Integration, Analysis and Use: From Past to Future"
University of Michigan, North Campus Research Complex, Ann Arbor MI
About NCIBI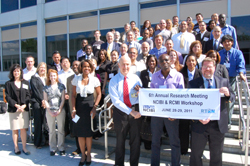 The National Center for Integrative Biomedical Informatics (NCIBI) was founded in October 2005 and is one of seven National Centers for Biomedical Computing (NCBC) in the NIH Roadmap. NCIBI is based at the University of Michigan as a part of the Center for Computational Medicine and Biology (CCMB). The Center develops conceptual models, computational infrastructure, an integrated knowledge repository, and query and analysis tools that enable scientists to effectively access and integrate the wealth of biological data.
About RCMI

NCRR's Research Centers in Minority Institutions (RCMI) program enhances the research capacity and infrastructure at minority colleges and universities that offer doctorates in health sciences. Because many investigators at RCMI institutions study diseases that disproportionately affect minorities, the program serves the dual purpose of bringing more minority scientists into mainstream research and enhancing studies of minority health.

About the Meeting

The 2011 Annual Research Meeting will be hosted at our newest facility, the North Campus Research Complex (NCRC) and will feature updates on key applications and developments over the past year, and focus on key data integration and tool integration related to the NCIBI Driving Biological Problems. There will be presentations by RCMI leadership, and faculty which will enhance our understanding of the problem space and set the stage for future collaborations. The second day will focus on presentations and workshops to help learn and utilize the NCIBI Tools and identify possible collaborative efforts in tool application or development.
Download Agenda PDF | View Meeting Photos on Facebook
Click on the links below to view a video recording of the talk.

Agenda

Monday, June 27th, 2011

06:00-09:00pm
Dinner for out-of-town visitors at Palio's
Tuesday, June 28th, 2011

08:00am
Registration and Continental Breakfast (NCRC Building 18 upstairs foyer)
-- All Presentations and Workshops will be in the NCRC Research Auditorium. --
08:15-08:30
"Welcome and Introduction" Victor DiRita, PhD, Associate Dean for Graduate and Postdoctoral Studies, University of Michigan
08:30-09:00
"Integration of Biomedical Informatics – Update on NCIBI and TranSMART", Brian Athey, PhD. Collegiate Professor (Designate), Computational Medicine and Bioinformatics; Professor, Department of Psychiatry and Department of Internal Medicine; Director, Academic Informatics; Associate Director, Informatics and IT, Michigan Institute for Clinical Health Research (MICHR)
09:00-09:15
"Driving Biology Problem: Integration of Different Data and Analyses", Charles Burant, MD, PhD, Dr. Robert C. and Veronica Atkins Professor of Metabolism; Professor of Molecular & Integrative Physiology Director, Michigan Metabolomics and Obesity Center
09:15-10:00
Workshop 1: Case Study: "Gene Set Enrichment Testing with LRpath and Conceptgen to Analyze Gene Expression Data from Running Rats" Alla Karnovsky, PhD, Research Investigator; Maureen Sartor, PhD Research Assistant Professor
10:00-10:45
Workshop 2: Case Study: "Examining Metabolites, Metabolic Pathways and Gene Expression Data with MetScape", Alla Karnovsky, PhD, Research Investigator
10:45-11:30
"Natural Language Processing and Ontology Mapping (Onto-aware): Using Concepts and Gene Lists to Probe the Literature for Novel Correlations Between Genes and Disease", HV Jagadish, PhD, Bernard A. Galler Collegiate Professor of Electrical Engineering and Computer Science; Fan Meng, PhD, Assistant Research Professor, Molecular and Behavioral Neuroscience Institute; Alex Ade, NCIBI Senior Developer
11:30-11:45
"Biological Interpretation and Discussion", Charles Burant, MD, PhD, Dr. Robert C. and Veronica Atkins Professor of Metabolism; Professor of Molecular & Integrative Physiology; Director, Michigan Metabolomics and Obesity Center
11:45-12:15
"RCMI Translational Research Network (RTRN)", M. Edwina Barnett, MD, PhD, MBA, CCBMI, FACP, Program Director, RTRN Data Technology Coordinating Center, Mississippi e-Center and Jackson State University.
12:15-01:15
Lunch in the NCRC Dining Hall
01:15-02:00
Keynote: "Integrative Informatics and the Future of Public Health Practice", José Conde, MD, MPH, Professor, Division of Graduate Studies, University of Puerto Rico School of Medicine Associate Director, RCMI Program, University of Puerto Rico Medical Sciences Campus
02:30-03:40

RCMI Faculty Presentations: Research opportunities for collaborations:Nawal Boukl
Zengjian Hu
Methode Bacanamwo
Sid Pratap
Daniel Sarpong
Tifanny Porties

03:40-04:30
"RCMI Outreach and Collaborative Initiatives", Panel Moderated by Gil Omenn, MD, PhD Professor of Internal Medicine, Human Genetics, and Public Health; Director of the Center for Computational Medicine and Bioinformatics
04:30-04:45
Program in Biomedical Sciences (PIBS) presentation, Tiffany Porties, Director for PIBS Recruitment
04:45-06:30
Poster Session & Reception
07:00-09:00
Dinner at Brian Athey's House
Wednesday, June 29th, 2011

07:30-08:30am
Invited Breakfast Meeting: "Next Steps in Building Collaborations"
08:00
Breakfast and Registration (NCRC Building 18 upstairs foyer)
08:30-09:00
"Core 1 Report on Progress", HV Jagadish, PhD, Bernard A. Galler Collegiate Professor of Electrical Engineering and Computer Science; and Terry Weymouth, PhD, NCIBI Lead Developer
09:00-09:30
"Core 5 report on Outreach and Education -- Accomplishments and Future Directions", Barbara Mirel D. Arts, Associate Research Scientist, and Marci Brandenburg, Bioinformationist for Taubman Health Sciences Library
09:30-10:00
Workshop 3: "API Tools for Command Line Data Access and Integration", Alex Ade and Glenn Tarcea, NCIBI Senior Developers
10:00-10:15
Prototype Demonstration: "Disease – Gene Linkage & Integration", Alla Karnovsky, PhD, Research Investigator and Terry Weymouth, PhD, NCIBI Lead Developer
10:15-10:30
BREAK
10:30-11:15
"Next Logical Steps: Using Cytoscape and VizTrails to Address the Next Dimension of Usability: Workflow Memory and Ability to Branch and Return to Thought Flow", Barbara Mirel, D. Arts, Associate Research Scientist, and Matthias Kretzler, MD, Research Professor
11:15-11:45
"RTRN DTCC-Supporting Researcher's Data Needs", M. Theresa Perry, Director of Clinical Data Services and informatics, RTRN Data and Technology Coordinating Center, Mississippi e-Center and Jackson State University
11:45-12:00
Discussion on Software Tools, Data Integration and How Researchers Work
12:00:01:00
Lunch in NCRC Dining Hall
01:00-02:00
Panel Discussion: "Enhancing the Bioinformatics Curriculum -- Discussion on Course Contents and Directions"
02:00-03:30
Workshop 4: "Next-Generation Sequencing (NGS) Tools and Application to Research: Exome Sequencing and Variant Detection", Jim Cavalcoli, PhD, Research Investigator and Bioinformatics Core Director, and Rich McEachin, PhD, Research Investigator.
03-30-03:45
Meeting conclusion and adjournment